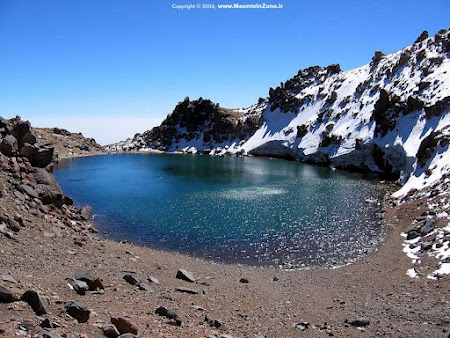 I climbed Sabalan (volcanic mountain in north-western Iran) in September 2011; it was one of the most beautiful climbs I ever made (not that I started long time ago … I "only" begun mountaineering in 2006). The "reward" that awaits the tired climber at the top of Sabalan is worth all the effort … an incredible blue lake! It looks like it was put there by God, in a very fitting way. The Iranian group I was with told of hidden mountain energies and Zarathustra stories (he was supposed to be born or buried around Sabalan and also must have written there the Zoroastrian holy book).
Sabalan is officially of 4811m yet the GPS said 4825m at the highest point of the highest rock formation. A volcanic mountain marginally taller than Mont Blanc in the Alps (traditionally of 4808m with new estimates of 4810m) is easier to climb than Mont Blanc especially on the north-east popular route starting at Shabil Hot Springs (2700m) as it has lower amounts of snow and ice. Sabalan is the third highest mountain in Iran; it boasts a spectacular if small crater-lake right at the top. I have a special place in my heart for volcanoes (inactive ones that can be climbed!) since I have been up on Kilimanjaro: volcanic mountains are usually prominent vs. their surroundings and the volcanic cone looks like a pyramid – think of the elegant shape of Mount Fuji from Japan and you will know what I mean.
Climbing Sabalan goes very well with the classic overland trail through Iran starting in Van at the border with Turkey (where most western over-landers enter Iran) and continues toward Teheran and Esfahan. The north-west province of Iran called Azerbaijan is not very touristical so in many places it will just be you and the curious locals – none of the tour groups you may see in Esfahan or Persepolis. After you have visited Tabriz especially during summer, a climb on Sabalan will be just what you need – a cool breath of fresh air before the "oven" that Teheran and Shiraz can be in July-August. In Iranian Azerbaijan you can also visit Ardebil (the tomb of Sheik Safi-ad-din, the bazaar, Jameh Mosque – easy to locate in town) and the nomad herder tribes (ideally with a local guide as they speak little English). In the winter you may sky at the Alvares slopes on the south side of Sabalan while the gorge at Shirvan sees few climbers in summer (you can have it all for you and your brave trailblazing group).
Below I will tell the story of the expedition I have been part of organized by "Iran Mountain Zone" (IMZ – on-line directory of Iranian mountains and mountaineering; they also organize tours and expeditions mostly in Iran). At the end of the article a few logistical details about getting to Sabalan by public transport (generally efficient and good value across Iran).
Day 1: As I landed in Ardebil (1200-1300m elevation) was picked at the airport up by Mohammad and Haji from IMZ (the 2 guys organised everything – this expedition would not have been possible without them as I have still very little high altitude trekking experience). Ardebil city is situated in north-western Iran and is one of the important urban centres of Azerbaijan province of Iran – more Azeris live in the Azerbaijan province of Iran than across the border in the country Azerbaijan. From the airport we drove with 4×4 straight to the first usual camp before Sabalan attempt just above Shabil Hot Springs (roughly 120 km from Ardebil at 2700m). With tents set up it was time for dinner (magically done in a flash – not much of a contribution from me). Between a tea and a story (we haven't seen each other in a year since my attempt to climb Damavand 5671m in Sep'09) it was getting dark. At that altitude there are few nomad herders' settlements, if you come independently it's good to know a few things. You may set up camp either at Shabil Hot Springs (not very picturesque parking lot and a downright ugly concrete bath-house building; thermal waters are nice though!) or little bit higher up the hill (no blaring music, soft grass to sleep on if you're lucky). There is no accommodation in Shabil Hot Springs.  Keep some distance between your tents and the relatively friendly yet rather conservative nomad herders (especially if you have women in the group). Don't go too far away though as you need water: nomad herders' camps are usually near water sources. No matter how far or close you camp you don't have to wait long for the nomads' dogs to appear claiming any left-over from your dinner. Idyllic pastoral landscape with charming sheep bells' jingles, sun setting in wonderful colours, etc … I fall asleep fast in my new sleeping bag newly acquired just before my flight from Romania.
Day 2 – Acclimatization. The human body needs some time before it gets used to high altitudes even if the trip does not seem long in kilometres (for example on Sabalan one may go up till the Hoseiniyeh shelter at 3600m straight from Ardebil by car) but it may be too fast for most people; some still do it – I never tried. After we slept near the nomads' camp at 2700m, during second day we made an acclimatizing climb to Yarpakh Daghi (4150m – "dagh" means "mountain" in Azeri) situated between our camp at 2700m and  peak.  After Yarpakh Daghi climb and a delicious lunch we started with the car toward Hoseiniyeh shelter (3600m) were we set up the tents (after 2 days I almost know how to set up a tent!). Hoseiniyeh shelter is very easy to recognize because of the small adjoining mosque – never tried to visit it seems mostly closed. The shelter seems reasonable with beds to accommodate tourists without tents or unwilling to deal with herders or their dogs – as said some drive straight to Hoseiniyeh shelter from the Ardebil and attempt the summit next day early morning (bit fast for proper altitude acclimatization!). Not clear how to book in advance (you may try the Ardebil Mountaineering Council) but one advice: especially in peak summer season plan to avoid Iranian weekends (Thursday and Friday) when it's surely busy. The keeper of the shelter might help you with some tea or even a warm meal … but you need to speak few words of Azeri and be really desperate … better to pack food in Ardebil market and / or cook yourself. I had no worries … with us was the best chef famous since the times of the shah. Shelter might be closed in winter according to IMZ.
Day 3 – Summit Day. The push to the summit starts early morning latest 6 am pending on how fast you think you may walk. Ideally you should be near the summit after sunrise. The 4-6h climb after Hoseiniyeh is not very steep but becomes steep at the middle of the way while near the summit it's bit easier again. This is the hardest part – the summit push, but it's worth it!
When you reach the summit on mount Sabalan (4811m) a nice surprise is waiting for you: the lake like a mirror on the peak of the mountain. The almost surreal blue lake situated right at the top in a small crater magically appears after a bend in the trail. If you are lucky with good weather and a nice sunrise your pictures will be paradise-like (OK … not really Maldives but still). The lake is not very deep or large but very beautiful … right at the top, like a reward for the intrepid traveller that makes it on the peak. If you go around the lake on the right side you can reach the highest point on Sabalan (some 20-30m above the lake surface) from where you may have a glimpse of the other north route to the peak over some glaciers that global warming hasn't caught up with yet (Attention: north route requires technical ice climbing).
Having reached the peak and the wonderful lake, we went down to the first camp near Shabil Hot Springs for a well deserved thermal water treatment. Shabil Hot Springs is a covered pool near natural hot springs. The rather large concrete building is not exactly in tune with the green surroundings and the near-by parking doesn't help the aesthetics either. The big difference vs. other thermal dips in other places is that women and men are thoroughly separated (you will never see any opposing sex person in their bathing attire at any time) as per the moral principles of the Islamic Republic. Don't forget your bathing cap … otherwise you will buy one at the entry (not allowed inside the pool without one). Very goooood and very waaaaarm! Afterwards we slept in our tents close to Shabil Hot Springs after a very delicious dinner – "Kheli mamnun, Haji jan! Dast-e shoma dard nakonen!" ("thank you dear Haji for the delicious dinner!" in farsi).
Day 4 – Return to Ardebil: Next morning rested and in good spirits we stopped to buy some honey at the side of the road (with the usual negotiation). Many local producers had more or less improvised stalls at the side of the road selling the season's produce: fruits and vegetables and of course … miam miam … honey! As it was the beginning of the autumn the variety was quite amazing: shapes, sizes, colours and aromas … even better taste, untouched (maybe) by genetic modifications like we have in Europe. During this last day we visited a bit in a rush the key attractions of Ardebil (the complex around Sheik Safi-ad-din tomb and Jameh Mosque); if you haven't seen yet Esfahan this will impress you for sure.
Logistics: Access to Sabalan mountain is possible from Ardebil (the closet airport in the area – this is how I got there) or from Meshkin Sheshr – both cities easily accessible with public transport. From these 2 places you may catch a taxi (ask at the hotels and they will offer you an old Land Rover as taxi) that will get you to Shabil Hot Springs (2700m). Another alternative is to take public transport until Lahroud (last permanently inhabited village before Sabalan) roughly 30 km from Shabil Hot Springs; then catch a taxi Land Rover from Lahroud. The road from Shabil Hot Springs (2700m) to Hoseiniyeh (3600m) is best done with a 4×4 car or by foot. The Latin spelling of Iranian cities names varies in English; see below some key ones you may print & bring – reputable guides like Lonely Planet provide both.
My Sabalan expedition was not independently organised but with "Iran Mountain Zone" – recommended to me by Alex Dumitru (very experienced Romanian traveller going places that see few westerners like Yemen, Iraq, Afghanistan, Pakistan; read his blog here). Specifically he has recommended that I join Mohammad Hajabolfath from IMZ on his Damavand group tour (done in Sep 2010). I was very happy to go with IMZ both times … so can't but warmly recommend them. They may also help you with the visa and invitation – absolutely needed for women travelling without a male companion; the embassy is quite conservative about these things. For information and questions you may contact Mohammad on e-mail (m.hajabolfath@mountainzone.ir) or Facebook; IMZ website  has information about the planned events of the next season.
Route: We took the normal north-east route up Sabalan: relatively easy; requires good fitness level but no technical climbs. During summer there is little snow and ice (some near the top) so you don't need crampons. The other potential route over the glaciers on the north side is technical (ice and rock climbing) … so not for me!
Equipment: For Sabalan climb you need mountain equipment for high altitude and summer conditions (if you go in summer like I was). The list I got from Mohammad (click here to see it)  is what I used when packing my bags. If you go independently and carry your own tent you need to buy food (Ardebil or Meshkin Sheshr green markets are very good) and have your own camping and cooking gear – unfortunately not really my area of expertise.
Sabalan mountain pictures
 Few key names in Farsi
Sabalan north-east route map
Where to put the camp?
 Some guests for dinner … 
Nomad camps nearby
Waiting for dinner
Dinner is being cooked
The camp is set-up
Urcand pe Yarpakh Daghi
Coborand pe pe Yarpakh Daghi
Peisaj din Sabalan
Coborarea spre Shabil hot Springs
Adapostul Hoseiniyeh (3600m)
Sabalan Peak  (4811m) with the amazing small crater lake
Rock formations on Sabalan Peak  (4811m)
Mother nature "beauty" (not sure what the buildings are)
Mohammad from Iran Mountain Zone (check IMZ website)
Happy after the climb – Sabalan snowy peak in the back
Honey sold by the road-side
Visiting Ardebil monuments