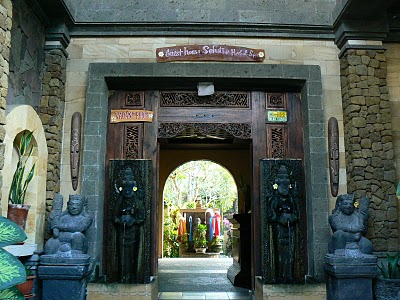 A friend of mine accused me jokingly that I trash the noble ideals of backpacking by writing about paradise like places, but also very expensive ones…He was having my post about the Anantara Hotel in the Maldives in mind. Don't be afraid, I didn't betray the cause…And I still continue to appreciate the hotels, hostels and guesthouses where you feel fine whether they are 5 stars or none. And I'll still write about luxurious locations and not only.  But, today, let's go to Bali, more specifically to Sehati Ubud Guesthouse.
Today I will present an absolutely gorgeous place – guesthouse Sehati in Ubud, Bali. I slept here 4 nights in august 2009 and I felt excellent. I still remember, even now the flower scented sheet and the bamboo bed. The room was large, it had air conditioning, it had a TV probably, but I didn't turn it on. Instead it was very peaceful and it had a superb garden – flowers, coconuts, papaya trees, green grass that urged you to only walk around barefoot…
It also had a spa in case you wanted a massage or some cosmetic treatment and the breakfast was served in an open aired pavilion. Above was the blue skies, palm trees, what to say more, paradise…
How much does this hotel costs? Well, now it is 350,000 Indonesian rupees …that is 29 euros or 37 USD ! However, when I stayed there, back in 2009, price was only 250,000 rupiah (21 euro / 26 USD).
I don't want to write more. Just look at the pictures. And check their site in case you need a nice accommodation in Ubud.: http://www.sehati-guesthouse.com/index.html
Pictures of Sehati Ubud:
Welcome to Sehati!
The garden
Every room has a porch
The view from our balcony – rice plantations and other guesthouses.
WiFi
Heliconia flowers
In the neighborhood…
The rooms…
Our room with a canopy bed
The garden from a top view
Papaya
Ready to leave towards Sanur
Good bye, Sehati!