When I was a kid, Switzerland looked me like a fairy tale … a country full of mountains, of green pastures, of snow-clad mountains, of wonderfully clean rivers, of blue lakes. Looking at pictures published in different magazines or on TV, it looked like cartoons. As I really loved the mountains, this was the wonder country I dreamed of. So, it was not any surprise that one of the countries I ever visited was Switzerland. Did it disappoint me ? Not a second. Obviously, Switzerland does not mean only mountains and lakes, it also means some classy cities. Actually, if the rural area met my wonderland expectations, the cities or the towns were actually the ones which surprised me because almost each town is a real open-air museum. That's why in today's articles, I plan to share with you some wonderful Swiss cities I visited to inspire you to visit at least some of them.

Yes, it is true, Switzerland is not one of the cheapest countries in Europe, on contrary, it is quite expensive, but even budget travelers can find deals across the country. But, Switzerland deserves a little bit of splurge and actually you can find luxury when trying for example services of houses rental in Switzerland. Just click on the link and you will fail in love with the properties offered … so do you think you don't deserve a bit of splurge.
But, returning to the cities, let's start going through some of the ones I failed in love with.
Luzern (Lucerne)
It is by far the nicest town in Switzerland I've seen. Think about a medieval town with narrow streets and colorful houses, wonderfully painted centuries ago, crossed by a fresh and fast river which goes straight to one of the most picturesque lakes of Switzerland. On top, the town is dominated by one of the most spectacular peaks of Switzerland, Pilatus peak (2128 meters high) which can be easily reached by public transportation (including cable car or mountain trains). The most loved monument of the town is a wooden bridge called Kappelbrucke (meaning the Chapel's Bridge as there used to be a chapel in the main tower). Unfortunately, the original bridge burned in 1993, but it was reconstructed based on the pictures which were sent by thousands of people (I should confess I was one of them). If you step on the bridge right now and look carefully, you will see which part is the old one which survived and which part is reconstruction. But, it does not really matter, Kappelbrucke continues to be a bridge to enjoy and love.
Bern
Very few people know about Bern more than the fact it is the capital of Switzerland. No, it is not the largest city of Switzerland (actually, it was chosen as capital as a compromise between the biggest cantons of the country), but it is one of the nicest. The most imposing building in the city is the Parliament, but the part which actually enchants is a long avenue adorned by the flags of all Swiss cantons. Do not miss to climb the bell tower of the old cathedral for a great view and if you come in spring, for a bit of magic, just go to the Roses garden.
Geneva
The capital of lots of multinationals, the place where billions are placed in Swiss banks (it seems there are more money in Geneve than in Zurich) is actually a tiny town. The best thing you can do is to walk leisurely around the lake (which in Geneve it is called Lake Geneva, in all the other towns around, its name is Lake … Leman !) and if you get a sunny and warm summer day, get a splash from Jet d'eau, a large water fountain which pumps the lake water to a maximum height of 140 meters ! It can also be seen from the plane even if flying at 30,000 feet (I've seen it while passing over Geneva on the way from Madrid to Bucharest !) and it is a symbol of the city.
As in the case of Bern, the best panorama you can have is from the bell tower of the St. Pierre Cathedral which entered history as Jean Calvin preached here, Geneva being one of the pillars of Reform which swiped through Europe, destroying a lot of the time's religious establishment.
However, as in many places of Switzerland, Geneva goes early to bed, you would be surprised to find out that you don't have too many choices where to eat after 10 pm. It happened to me once, so I ended up in the only open establishment at 11 pm – a shwarma place not far away from the lake !
Zurich
Zurich looks similar to Lucerne, but, frankly, I prefer Lucerne as being more picturesque and surrounded by mountains. Zurich is already in the hilly regions of Switzerland and it is busier than Lucerne. It is normal, because it is the largest city of Switzerland, the banking capital of the secretive and safe country, so you will rub shoulders with thousands of people in black suits talking stock exchange indices and guessing the foreign exchange market trends. If you are not into this, you might get into the churches built on the banks of the Limmat river, the main feeder of Zurich lake. The windows are created by the famous Chagal, one of the key personalities of the art nouveau style which hit Europe and America just before World War 1.
St. Gallen
It is a quiet town, maybe because it was founded as an abbey by a Saint called Gallus. The initial one-man hermitage developed into an extravagant monastery whose library is famous Europe-wide – it houses books as old as 1100 years ! What is interesting about this town is due to the fact that the land is an unstable turf (Gallus was looking for a lonely retreat, not to set up a city !), the buildings from the city center are built on piles ! The railway station is built on thousands of piles !
Lugano
In a country dominated by German and French speakers, at a certain moment, you might forget there is an Italian community as well. There is actually an Italian-majority canton called Ticino, in South, just immediately you cross the Alps on the way to Milan and here you can find a beautiful town called Lugano. In the Swiss fashion, it is built on the bank of a lake (boringly called Lake Lugano), but its architecture is visibly Mediterranean. For those who come from North, it would look like a welcoming change, for those coming from South would be surprised to find another Italy – an Italy of order and quietness, a Swiss Italy !
I would also list a few other Swiss towns I visited which deserve at least a day visit – Lausanne, near the Leman Lake, Vevey-Montrex duo which enchanted even Freddie Mercury who moved his residence here (the only statue of the legendary singer I know is by the lake), Basel with its spectacular red City Hall or St. Moritz, the classy capital of the skiing or Schaffhausen, a small town close to the German border, famous actually for the Rhein's water fall, but which boasts also a small and cute old city. I can list here also Interlaken, the starting point to conquer some of the nicest Alps or Zug (it German, it means … "train" !), and so many… but I should stop here in order to recommend you some of the best of the best. And I believe the ones described above are the nicest towns of Switzerland.
If you feel like adding some Swiss cities you've been in and I missed them, please, feel free to add them below at the comments section ! And go Switzerland !
Pictures of Switzerland
Pilatus overlooking Lucerne
Main avenue of Bern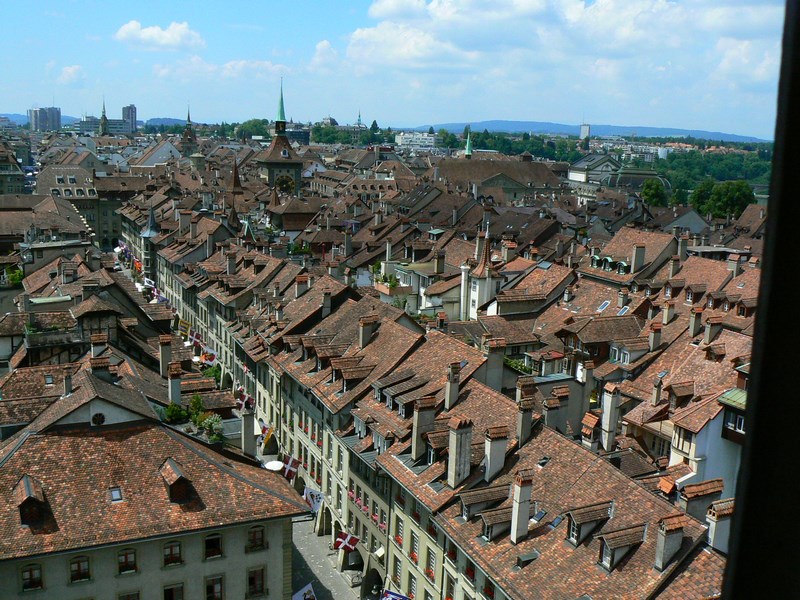 And a view from the top. Top of the church !
Lugano, the Italian city of Switzerland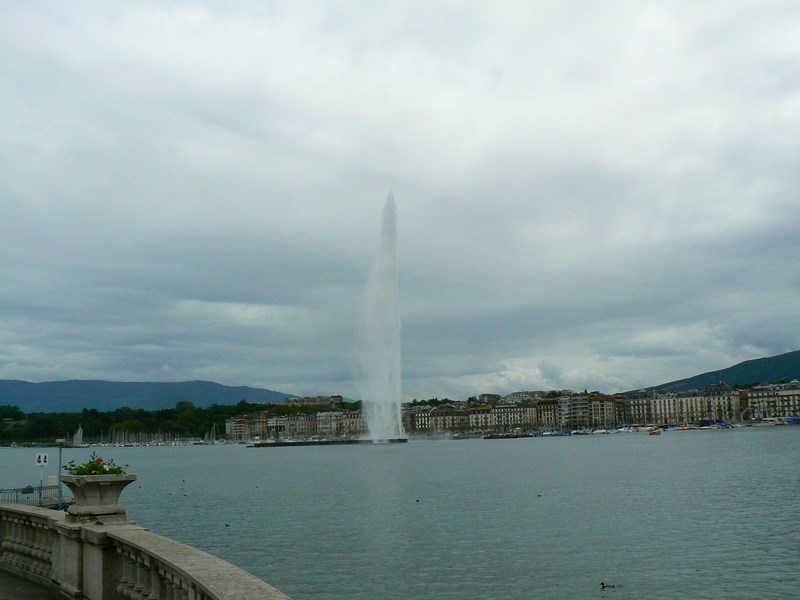 Jet d'Eau in Geneva